Google Calendar Plugin for Google Desktop
Google Desktop has been discontinued. This product is no longer available.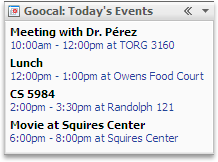 Google Calendar on your Desktop!
Many people are switching to the recently-released Google Calendar. But the only thing that's holding some of you back is that the calendar is entirely online. Here's a good way to keep an eye on the most important events: Today's Events.