Keymote™: iPhone / iPod Touch Remote Control for Apple Keynote
Control your Keynote slideshows with your iPhone or iPod Touch
The iPhone and iPod Touch are great devices in and of themselves, but they can be used in conjunction with your laptop for even more interesting purposes. If you're giving a presentation and are far away from your Mac laptop, Keymote lets you use your iPhone or iTouch to control the presentation.
Download You'll need to get Telekinesis first!
Screenshots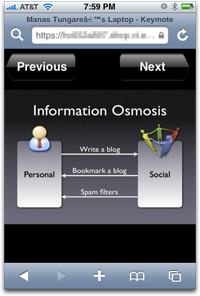 Enter Keymote™
Keymote shows you the current slide on your iPhone, as well as the presenter's notes saved in your slideshow. Two simple buttons allow navigation through the slide deck: Previous and Next.
Requires Telekinesis
Keymote is not a standalone application: it requires Telekinesis, a generic iPhone Remote Control infrastructure that makes it easy to build remote control apps like this. If you have not downloaded and installed Telekinesis yet, please do so before trying to install Keymote.
Keymote also needs PHP 5.x to work correctly. Mac OS X 10.5 Leopard ships with this version, but Mac OS X 10.4 does not. To use Keymote on Tiger, you need to upgrade your PHP installation.
Known Issues
Keymote is currently not officially supported on multiple monitor configurations because Telekinesis does not fully support it yet. To use Keymote, you should set your display configuration to "Mirror Displays" when using an external display (which is always). I realize that this interferes with the Presenter View feature of Keynote which is immensely useful, and am looking at options to make Keymote work correctly with multiple monitors. Stay tuned!
Open Source
Keymote source code is available inside the .tapp package. Simply look inside the package by right-clicking on the package, and choosing "Show Package Contents". Feel free to edit and share your contributions back with the community.
Keymote™ is a trademark of Manas Tungare. Keymote™ is free software distributed under a Creative Commons license.
If you're looking for the non-free iPhone app for keyboard shortcuts, get it here instead.