PhotoWizard™
An Image Processing Tool for Batch Processing of Digital Photos
This tool is no longer under active development, but the source code is available for free download.
PhotoWizard™ is an image-processing tool for your photos that operates in batch mode. It lets you resize or rotate your images, add a border, increase/decrease brightness & contrast, and antialias your images. The primary use of this tool is right after you download pictures from your digital camera. When you want to post them to a website, you typically need to reduce the file size, add a border (maybe) and other such stuff.
Screenshot: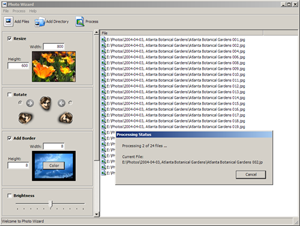 Why PhotoWizard
While it is certainly possible to do this with any commercial tool such as Adobe Photoshop (or its many clones), PhotoWizard has three distinct advantages:
It is extremely simple to use: Simplicity has been a key guiding principle behind the design of PhotoWizard. I have actually compromised on adding features for fear of adding unnecessary complexity.
It operates in batch mode: Resizing a single image in any other tool is easy, but they do not lend themselves very well to automation. While some do support automation, it takes more than an average experienced user to actually use that feature to benefit.
It is free for personal as well as commercial use: You will not have to pay a single cent to use or deploy PhotoWizard. In addition, the source code to the application is also available (since it is licensed under the GNU General Public License, so you can freely modify it and redistribute copies (subject to certain licensing restrictions.))
Technical Information & Acknowledgements
PhotoWizard uses the excellent ImageMagick libraries to perform the actual image processing tasks: it is simply a GUI for the ImageMagick CLI.
The Windows port of ImageMagick uses the CygWin library to provide the UNIX system calls and environment that it expects. Thanks to RedHat and the CygWin team.
Icons used in this program were originally created for KDE (a desktop environment for Linux) and released under the LGPL by their author, David Vignoni [www.icon-king.com].
Icons were converted from their native PNG format to the Windows .ico format using a trial version of Axialis IconWorkshop. It is a powerful tool designed to create, extract, convert, manage and redistribute Windows icons.