WinWizard™, a System-Tweaker Program for Windows 98
WinWizard was written in 1999 and is not being actively maintained.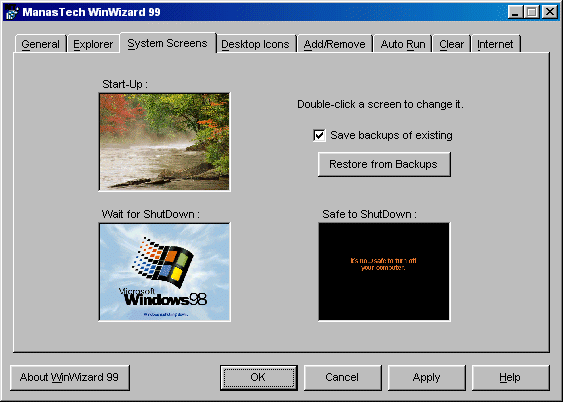 The award-winning System Tweaker Utility for Windows
WinWizard™ is a utility which empowers Windows users with the ability to change system settings, which Windows itself does not allow the user to modify.
With WinWizard, you can modify a large number of Windows settings, all with an easy intuitive interface. This allows complete customization of Windows to suit each users own preferences. A noticeable improvement in performance & productivity can be observed on tweaking Windows 95/98 with WinWizard.
Typically, it optimizes Dial Up Networking settings for PCs using a telephone line for Internet access. A large number of enhancements have been included, and each of these has been explained exhaustively in the Online Help.
Magazine Features
WinWizard '99 was featured in PC Hemma, Sweden. (April, 2000) & in PC Professionell, of the Ziff Davis Group, Germany (November, 1999).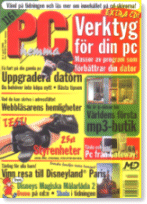 The November 1999 issue of this monthly computer magazine for computer professionals includes WinWizard for the benefit of their readers. Nearly 324 pages thick, PC Pro is one of most-read computer magazines in Germany.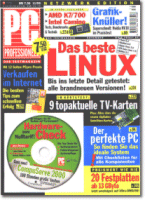 The April 2000 issue of PC Hemma, a Swedish Computer magazine features WinWizard '99 in a special coverage on System Utilities. PC Hemma is published by the Medström Datförlag AB Group.
Features of WinWizard '99
The main screen of WinWizard is divided into 8 tabs, each of which contains the settings for a particular category.
General Settings:
Change the default location of system folders, such as Desktop, Fonts, etc.
Change the Registered Owner of your copy of Windows.
Change the Registration Organization of your copy of Windows.
Explorer Settings:
Changing the Folder Default Action to either "Explore" or "Open"
Adding a specific command to the context-menu (right-click menu) of all files (*.*).
Adding a default command for all unknown filetypes.
Instant Preview of bitmaps as icons of themselves.
MS-DOS Prompt option on the context-menu (right-click menu) of all files & folders.
Creating Shortcuts to special folders (Desktop, Control Panel, Dial-up Networking, etc) in the Start Menu or any other folder.
System Screens
Change the default Microsoft Logo displayed on startup as well as the screens that announce 'Please wait while Windows shuts down' & 'It is now safe to shut down your computer.'
Any bitmap of your choice can be used. It also provides guidelines on resizing the image since Windows requires an image of a fixed size.
Desktop Settings:
Desktop Icons of My Computer, Network Neighborhood, & the Recycle Bin can be modified directly. Any Icon file (*.ico) file can be used.
Change Menu Popup Delay : decide the time delay between the release of the right mouse-button, and the actual Popup menu.
Smoothening of on-screen fonts.
Display/Hide Window contents while dragging.
Rename the Recycle Bin to anything.
Add/Remove Programs Settings:
Remove any items from the Add/Remove Programs list. (Useful to clear junk off your PC and maintain it clean)
Edit or Add any NEW items to the list.
AutoRun Program Settings
Control exactly which prorgams are started at start-up.
Add new programs to be autorun, without putting them in the startup folder.
Clearing Defaults
Recent Document List
Run History
Find Files History
Find Computers History
Font Cache
Icon Cache
Temporary Directory
Internet Explorer History of visited sites.
Internet Settings
Modify the TCP/IP Settings of Windows 95 optimized for a Dial-up connection.
This boosts your internet performance by as much as 20%.
WinWizard™ is a trademark of Manas Tungare.