Hello!
I'm a Tech Lead & Manager working on the Google Assistant.
My team develops the Android TV app that enables millions of TV users to access the Google Assistant via the largest screen in the home.
Google Assistant on TVs
Digital assistants are a fresh new way of thinking about computing, and my background in human-computer interaction drew me to this area. Despite being an early skeptic of voice-only interfaces, I have now fully embraced the notion of talking to a disembodied voice in the sky and asking it to do things for you.
The Google Assistant team is a fun, fast-paced environment with wide scope for new ideas, from multi-device interactions to language understanding to interfacing with third-party ecosystems. Interested? We're hiring!
Hermit, the Lite Apps Browser
Some ideas are too radical to be pursued by large corporations, so I've followed them up as side projects. Hermit, the Lite Apps Browser, is arguably my largest such side project, with over 1 million happy users and a 4.6+ star rating on Google Play.
Hermit is a fresh new take on how Web Apps should exist on a mobile operating system. Go check it out, it's free to download. →
Previously, at Google…
During my 10+ year career at Google, plus 3 internships, I have been on several teams.
Uber Tech Lead, Search Platforms — Cross Platform Rendering
Google Search has several hundred features, like weather, or sports, or movies. Many of these must be rendered consistently on the various platforms that Google supports, including Web Search (mobile and desktop), Google Assistant, the Google app on Android and iOS, Chrome, Wear OS watches, Android TV, and upcoming new hardware.
As Google reaches more users, it is clearly not sustainable to re-design and re-write UIs for each surface individually. I worked to tame this combinatorial explosion and provide solutions so every feature could be rendered on every surface.
During my tenure as Uber TL for this effort, we grew the team from ~3 to 50+ engineers across multiple orgs.
Tech Lead, Google Now
Google Now was the contextual assistant that provides you "the right information at just the right time".
I founded and grew a team to 12 engineers across Android, iOS, Web, and Server to build a server-driven cross-platform layout system for the Feed. Our solution is now built into Chrome, the Google Search App on Android and iOS, and the Google.com homepage on mobile. Piet is open-source and is available in the Chromium tree at chromium.googlesource.com/feed.
Inbox by Gmail
I was a front-end engineer on the Inbox team, a complete redesign of the email experience from the Gmail team. I worked on the "Inbox model", a term we used for the state transitions that form the crux of the Inbox experience: moving messages between Done, Snoozed and Pinned states. I also developed various Web UI features, including multi-selection, email actions, menus, the navigation bar, animations, etc.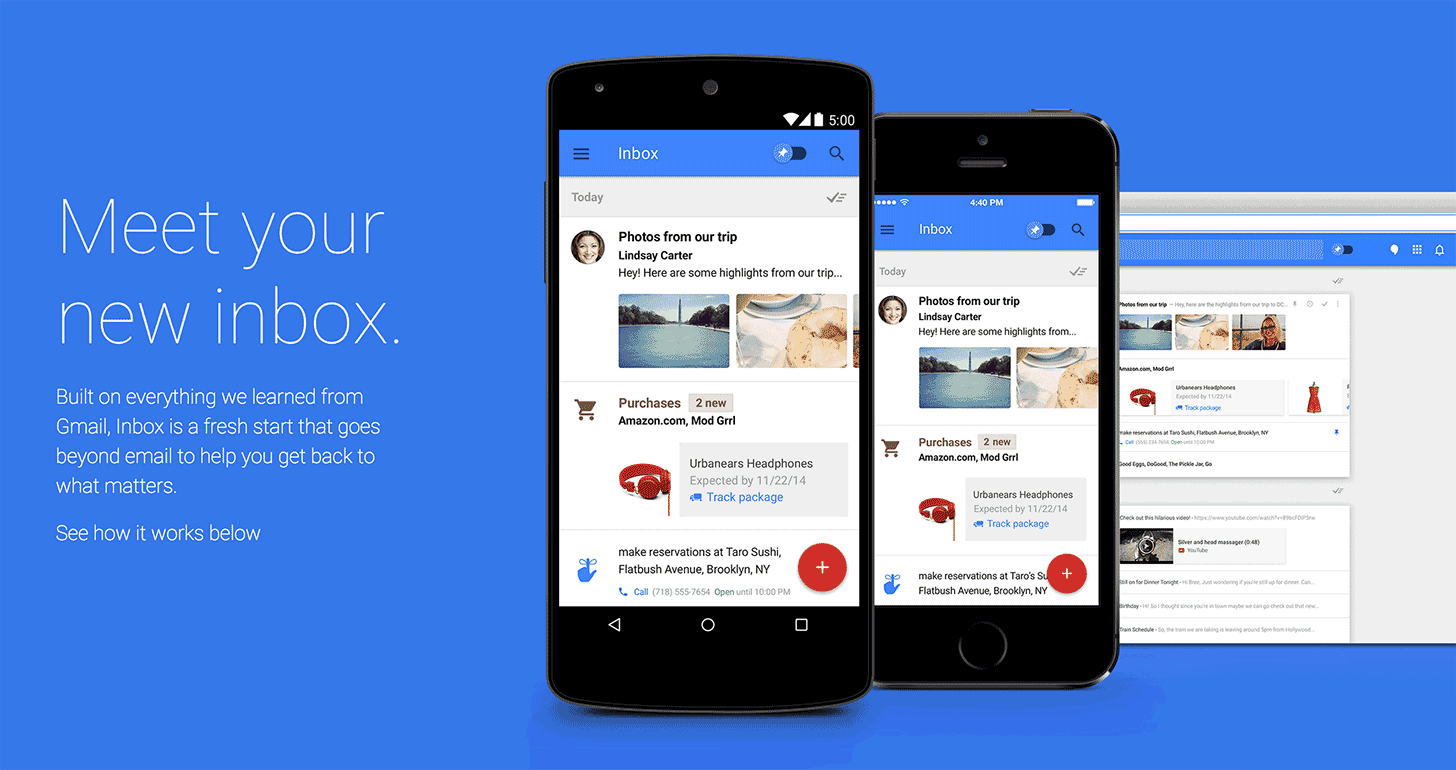 This project was aligned closely with my dissertation interests because email is such an integral part of our personal information. Many people use their email as a task list, we receive confirmation emails about events, flights, trip plans, and so much planning happens within email.
Google Instant
I was the first engineer on Google Instant and worked solo for 3–4 months designing and prototyping the simple yet powerful UI that Google is known for. During this time, I created several designs, mocks, and prototypes of Instant that explored the "search as you type" space. Google's blog post on Google Instant shares a few of the mocks and prototypes I developed. Fun fact: when I showed an early prototype to members of the infrastructure team, here's the reaction I got.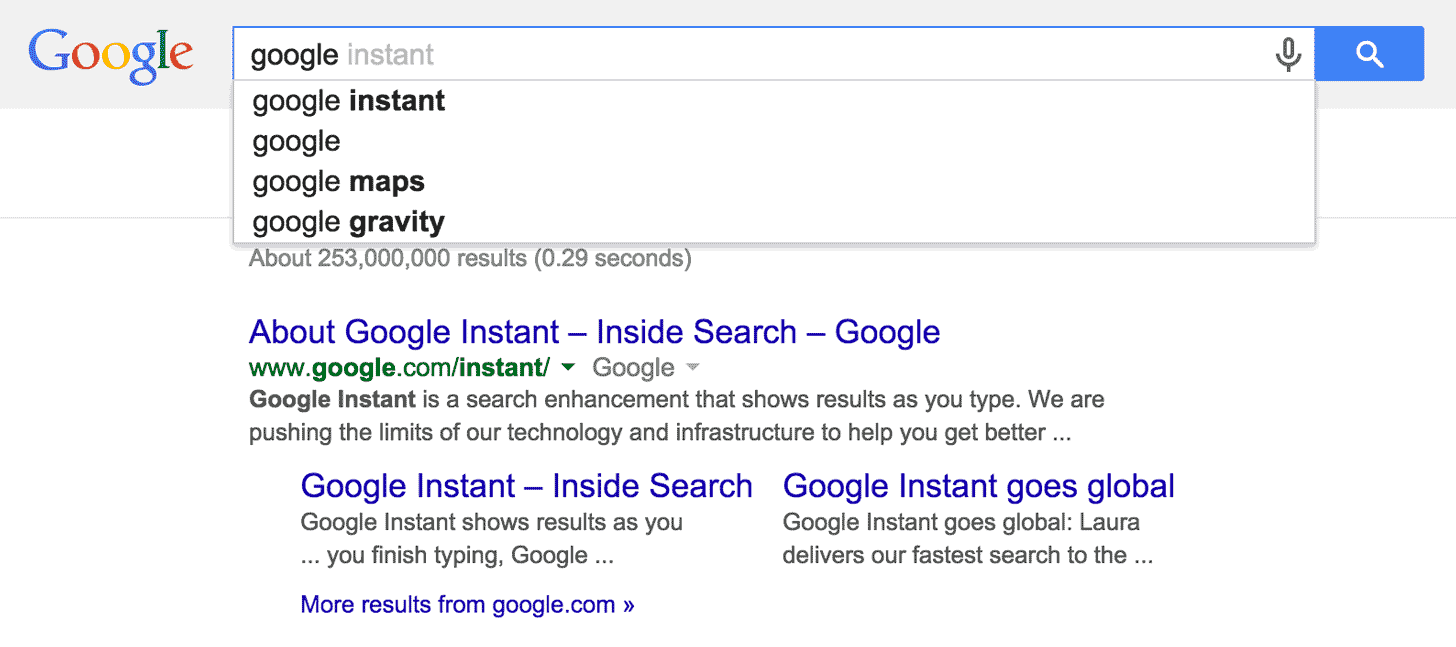 As the team grew, I worked with a team of awesome front-end engineers to productionize the application and eventually, to launch it. When Google Instant launched in August 2010, it was referred to as the biggest change to Google since the launch of Google itself.
Google Voice Search
After Instant, I worked with the Speech Recognition team to launch Voice Search on Google.com. I was the only Web Search engineer working on this project exclusively, and thus was responsible for a majority of the front-end engineering work.
User Experience & Design Consulting
A usable, friendly, and fast web site keeps users happy. Designing for usability is part art, part science. As a User Experience Consultant, I am happy to provide actionable suggestions to product teams that you can implement with your team. Read on for more details »
Academic Background
Before joining Google, I obtained my Ph.D. in Human-Computer Interaction from Virginia Tech in 2009 (dissertation: "Mental Workload in Personal Information Management: Understanding PIM Practices Across Multiple Devices"). I hold a Masters degree in Computer Science from Georgia Tech and a Bachelors from the University of Mumbai.
Personal Life
I grew up in Bombay, the financial capital of India, right by the sea. My wife Amruta is a front-end engineer at Salesforce, and we love to travel and indulge in our shared passion for good food.